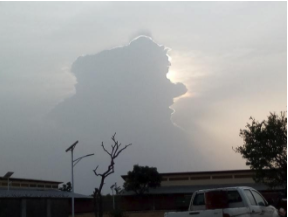 On January 17 and 18, our team of seven Americans finally gathered in Abuja along with our Nigerian friends: two policemen, two drivers and our cook, 'Papa', ready for six weeks of hot weather, hours of driving on bad roads, hard, grueling work and living in the bush! Sounds like fun, eh? Well….parts of it were fun….not all! But we did it!
We drove straight to Kachia grazing reserve in Kaduna State to begin the projects for which we had come. Terry McGill of Sister Schools came to take pictures and distribute loads of school supplies, Chester and Jan Novak to build earthen dams and conduct reading workshops and Judy Hildebrant and Carol Barrett to work alongside Jan in the workshops! Shane Verschelden and I, along with our team of Nigerians, were there for support services! Great team, great results, great and wonderful God!
At the Kachia reserve there is a 'learning center', Wuro Nyako, with six apartments available to us whenever we come. The center also includes a primary school, computer and sewing labs, (fully equipped,) shea butter processing plant and more. All of these were donated to this reserve some years ago, but are barely operational and without management.
With a dining table set up under a canopy between the apartments, and our tents pitched inside the rooms, (insurance against creepy-crawlies,) we settled down for six weeks of hard work!
Our first week was spent in meetings with the reserve leaders, in particular Ardo Ayuba and Salisu, to prioritize locations for the first earth dams. It was decided that the repair of one old dam and the building of a new one were desperately needed in the vast area they call 'Block 1'. As these meetings were taking place, I took Terry around to several primary schools where he photographed children holding specific gifts from specific kids in Washington State! These pictures will be taken back and shown to those Washington children who will be thrilled to see their gifts in the hands of these Fulani kids! We stacked the load of school supplies in one of the apartments for later distribution to the schools.
Jan, Carol and Judy held the first session of the first teachers' workshop with thirty student participants, (all teachers in the nomadic schools.) Officials from Nomadic Education Commission, reserve chiefdoms and village heads were present to welcome and give us their full support. The main thrust of the workshops was teaching reading by teaching recognition of the sounds the various single letters and multiple letters of the alphabet can make.
No more memorizing 'A is for Apple, B is for Baby, C is for Cat'!
Rather, when a child sees a letter, such as 'A', they know it can make the sounds /a/ (at), /ā/ (a ble), or /ä/ (want). When the child sees a multiple phonogram such as 'ch', they know it can make the sounds /ch/ (church), /k/ (Christ), or /sh/ (chef). The instructors gave each student a full set of phonograms along with sample words and spelling rules, with model lessons on how to teach these to their pupils in their classrooms. It's a new and far more effective way of teaching reading!
Hours and hours of work went in to the preparation of these sets of phonograms and supporting materials. Jan and her team are to be highly commended for the three separate workshops they conducted – two in Kachia with a total of seventy teachers present, (all government teachers from the twenty-three reserve primary schools,) and one workshop on the Bobi grazing reserve for the fifteen Schools for Africa teachers.
The workshop mottos were, 'We are better together' and 'Learn to read so you can read to learn!' We are hoping these three remarkable women will return to Nigeria later this year to continue this valuable training and carry these teachers on to the next step.
As the workshops were taking place, Chester and Shane were beginning the work on repairing Dam 6. Because of equipment breakdowns, the job took much longer than we had predicted, but finally the work was completed, and the herdsmen of Block 1 have been provided with the means to water their vast herds of cattle and practice planned, rotational grazing.
The Yola Fulako Dam, also in Block 1 was built from scratch! Chester and Shane, using Google Earth and GPS mapping, found an area, a stream which when dammed would best provide water for the surrounding grazing lands, and built the dam using an excavator, bulldozer and two dump trucks. Again, lots and lots of problems with the equipment, but we won't go into that! Suffice it to say, we had to cancel a fun trip to Kano to buy cloth and curios, to finish building the dam. It was completed on Sunday evening, February 25. On the 26th we drove to Abuja, the 27th Novaks and Carol flew back to Seattle! The 28th, Judy's flight left! That was cutting it really close, but we thank God that at the end of the day, we left Kachia with two vast, working dams! Shane and I are left with the assignment to go to Kano and buy loads of 'Kano cloth' and take it back to Seattle for the team in June.
As the purpose of the reserve water development is to make possible planned, rotational grazing and thus the long-term, successful settlement of herdsmen on the reserves, together with the most important restoration of a land quickly turning to desert, we conducted several meetings with reserve leaders and herdsmen reviewing these issues. Chester and Shane designed paddocks around Yola Fulako Dam, and left instructions on how to rotate through the paddocks in dry seasons and rainy seasons. Our goal is to do successful rotational grazing in Block 1 as a model for the other blocks on the reserve.
Another very important goal is to meet the State Governor, to discuss with him, using aerial pictures from Google Earth and photographs we've taken, how Kachia is rapidly losing its forests and grasslands. If something is not done immediately, Kachia reserve will soon be a desert, unable to support the thousands of people and livestock dependent upon it. We saw truckload after truckload of firewood being taken out of the reserve, daily! It's a terrible situation, and hit us hard as we realized we were in cross-purposes with a government which is selling permits to these wood cutters! Here we were, building dams and planning for the kind of land management that will bring back grass and water while the government is selling permits to cut down the forests, which will in turn result in the loss of topsoil, grass and water! The solution is in the government's hands: stop the cutting of wood and support planned, rotational grazing to protect the resources so necessary for life in this place! The reserve leaders fully understand this problem and are setting up a meeting with the Governor which we will attend together.
You may be interested to know that the herdsmen/farmers crisis is escalating in Nigeria. The government is meeting almost daily to look for solutions. They are discussing creating 'colonies' where they'll force hundreds of herdsmen and thousands of cows to join themselves together on restricted areas in each state. The other idea the government is discussing is to create ranches, where Fulani will have to keep their cows in large pens and feed them expensive hay and grain, (which the Fulani would have to buy from the government.) These ideas are totally counter cultural to a nomadic people whose way of life goes back hundreds of years – whose love for their families and animals overrides any desire for economic growth.
We have a whole ethnic segment in Nigeria whose lifestyle, culture and heritage are endangered. Nigeria is home to most of the world's Fulani population. Numbering between twenty and twenty-five million people, an estimated seven to eight million are pastoralists, making them the ethnic group with the largest nomadic population in the world. The Fulani are nomadic and habitually migratory. They move with their cattle from North to South annually in search of pastures. The movement is seasonal.
One prominent Fulani leader of the largest cattle association in Nigeria, MACBAN, has gone public and stated,
"The Government should have established grazing reserves or ranches a long time ago. It is getting more difficult now as the available land is dwindling. Livestock has been neglected and more attention paid to crops. There are grazing reserves and cattle routes in every state. The respective governments know this because they were all gazette, (registered in court.) It is unfortunate that they have been sold or turned into settlements and farm lands.
"MACBAN dismisses need for cattle colonies. It's best to work together with security agencies, farmers and herdsmen committees. Together we can come up with measures to forestall future incidents. Only graze where there are no farms. If you destroy farmlands intentionally or unintentionally, pay for what you've destroyed. This is the workable solution that will protect the interests of both sides."
I agree with this man. Grazing reserves and planned grazing will protect the Fulani and their culture for generations to come. Let's support this most important work in Nigeria – a work which will result in peace among farmers and herdsmen and a restoration of their land.
Shane and I are taking a week off, then heading north to meet with the Emir of Dutse regarding our school in Jigawa. We'll let you know how that goes, but fully expect success and God's continued favor. Then it's back to Bobi reserve where we have much work to do! We've been asked to carve five hundred hectares of grazing land from each of the seven blocks, map them and submit the results to the State Governor who will notify the farmers to shift themselves over and share that land with the herdsmen. Our training of Fulani women also begins on the Bobi reserve. We are hoping for at least thirty women to begin literacy classes, while we wait for a volunteer doctor to come and train them as first responders in the healthcare of women and under-five-year-olds in their communities.
We at Schools for Africa want to thank Terry, Chester, Jan, Carol and Judy as well as our Nigerian support team for their most valuable contribution to our work among our Fulani friends!
Bye for now, from Nigeria! Phyllis Sortor and Shane Verschelden